閱讀練習卡靈活性大,最適合當孩子剛學了一些生字,讓那些字能在孩子的生活四周到處出現,讓他能時刻接觸到,成為生活的一部分,徹底地提高他的學習成效、增進他對生字的記憶。
閱讀練習卡除了可以讓孩子集中練習他感到困難、或容易混淆的字之外,更可以配合思展設計的一系列語文活動和家庭遊戲:接龍、釣魚遊戲、豆袋遊戲、七大家族⋯等,不管是父母陪同一個孩子玩、或是幾個孩子一起玩,都能利用練習卡讓孩子的學習變得更有趣、更生動。
One of the advantages of the Study Cards is their versatility. The cards can easily be integrated into your everyday life as soon as your child learns some new characters: they can see the characters everywhere, they can touch them and play with them. This enhances your child's memory and language development in many ways.
The Study Cards can be used to help your child focus on practicing characters that are difficult or ambiguous. More importantly, you can take advantage of a wide range of games and activities that we have designed to step up your child's use of language. Whether your child plays with you one-on-one, or several children play together, the games add fun and purposes to your child's reading and learning.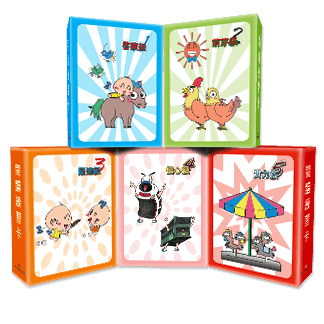 閱讀練習卡

遊戲示範

Study Cards

game demo
以下是其中一個練習卡遊戲的示範。
Please enjoy the demonstration of one of the games below.
Main features of the
Study Cards
Available in Traditional Chinese and Simplified Chinese versions
備有繁體版及簡體版。