能認讀只能算是剛跨進了閱讀的門檻的第一步。裏面還有整個洞天等着孩子去發掘探索。
要真正做到閱讀,孩子必須具有:
以上這些能力在孩子的成長發展過程都會與他的心智成熟發展同時並進。因此,重要的是我們能發時為孩子在每個發展階段有系統地、及時地提供合適的讀物。而
寶貝盒
課程的設計就是為了達這些目的。
To be able to recognise words is merely the first step to reading. There is much more to be discovered in the world of literacy.
In order to truly read, the child must:
Children develop all these abilities at the same time as their cognitive and other developments. It is important to recognise the various yet distinct stages of their developments, and to provide the appropriate material for them to read. Treasure Box has been created to serve this purpose.
寶貝盒是一套五本的故事書,專門為配合基礎漢字500課程而編寫。寶貝盒故事文章體材多元化,包括民謠詩歌、中國經典故事、童話和寓言故事、風趣小品故事等。由於故事內容比基礎漢字500的課文精彩複雜,單字都得到了更多不同組合運用的機會,孩子輕易就學到了新的字義。為了給孩子的求知慾帶來適當的刺激,寶貝盒除了包含相應級別課程所教授的全部100個漢字,還引進10%的新生字;這每個故事的幾個新漢字非但不會影響孩子對故事整體內容的理解,還可以讓孩子保持新鮮感,同時亦為升級的學習打下基礎。
Treasure Box is a collection of story books, five in each level, to accompany the Basic Chinese 500 course. Treasure Box provides a wide selection of genres for your child. These include poetry and rhymes, Chinese classic stories, fairy tales, fables, humour, riddles, adventures and more. Compared to Basic Chinese 500, the stories in Treasure Box are longer and the plots are more complex. This provides a good opportunity for your child to learn more ways to use the vocabulary and to form sentences. Your child will also learn new vocabulary: while each level of Treasure Box uses all 100 characters that are taught in the same level of Basic Chinese 500, it also includes about a further 10% new characters. This makes reading refreshing and, of course, a little more challenging. However, rest assured that it is well within the threshold of what your child can handle. These extra characters prepare your child for the next level of learning.
The advantages of the Treasure Box
語文能力除了要會認字之外,更重要的是要能看得懂、聽得明白、能理解文意,寫作或談話時能準確地靈活運用字詞文句,做到詞能達意。再進一步是要能透過閱讀去學習新知識,去思考和提問。在孩子整個語文能力的發展過程之中,要是能同時逐步將大腦打造成既能專注又能提高記憶力,那就是真正地為孩子的終身學習準備好豐潤的溫床了。
寶貝盒能對孩子的語文能力發展起到關鍵的作用。
每級寶貝盒包含本級基礎漢字500教授的全部100個漢字
每級寶貝盒同時包含本級以下的各級漢字
在上述基礎上,每級寶貝盒再引進10%的新漢字
各級寶貝盒的新舊漢字都能得到豐富的詞句組合表現
透過豐富的漢字組合,孩子學習到新詞語
個別故事集中歸類學習詞語:動詞、形容詞、感嘆詞、押韻字⋯增加學習成效
成語學習
學習各類修辭法:多種比喻法、排比、擬人、層遞、反問⋯
學習語音韻律
學習各種標點符號的應用
不同的寫作風格和手法:譏諷、順敍、推理、轉述、詩歌、問答⋯
經典歷史神童故事讓孩子學習歷史和前人智慧,受到啟發
經典文學作品令孩子接觸中外經典名著,增進文學常識
每級寶貝盒分別配合孩子的認知發展,誘導孩子留意身旁事物,包括時間、空間、人際關係、物理現象等
引導孩子對觀察所得進行分析、歸類
激發孩子進一步探索和思考情理、是非、成因、後果、哲理等深層課題
閱讀字數、篇幅等逐級遞增,培養孩子的學習和專注耐力
劇情複雜度遞增 ,訓練孩子的記憶力:將某些概念保留在大腦,到適當時候取回應用
畫面複雜度遞增
色彩運用漸變成熟
閱讀時間遞增,養成孩子專心閱讀的習慣和情趣
必須強調的是,僅僅一套寶貝盒,能起到的作用到底是有限的。但是寶貝盒是一個藍本,是父母親在孩子的每個發展階段如何選擇閱讀材料的樣本。
家長可以將寶貝盒作為範本指引,為孩子多挑選其他內容、篇幅字數、文體相約的優質圖書,為孩子設置一個能配個孩子的閱讀水平、興趣和心智能力的圖書庫,不斷薰陶孩子的閱讀興趣、提升他的語文能力。
Treasure Box

promotes language development
Being able to recognize characters is only a part of the child's linguistic abilities. There are other important aspects in the child's language development. Your child needs to understand a passage or a speech when they read or listen. They need to be able to construct accurate and logical sentences when they write or speak, and the ability to do so with a bit of flare would earn them even more persuasive power. Furthermore, your child should use reading as a tool to gain new knowledge, to think and to ask questions. If we can train the child's brain to focus and to retain better memory during their period of language development, it would indeed lay down a fertile soil for your child's lifelong learning.
Treasure Box can provide critical support to your child's linguistic development.
Each level of Treasure Box uses all 100 characters that are taught in the same level of Basic Chinese 500.
Higher levels of Treasure Box also use characters taught in previous levels.
Based on the above, each level introduces a further 10% of new characters.
Each level of Treasure Box provides ample examples of how the characters can be formed into words, phrases and sentences.
The child grows a larger depository of vocabulary from the characters they have already learnt.
Selected stories focus on specific types of words – verbs, adjectives, interjections, rhyming words, and more.
The child learns cheng-yu (Chinese idioms).
Different kinds of writing techniques: simile, personification, parallelism, rhetorical questions, …
Rhyming words and homophonics
Punctuation
Various writing styles: recount, deduction, poetry, question and answer, irony, …
Your child learns history and gets inspired by stories of historical prodigies.
Your child learns literature through reading classics from around the world.
Adapting to your child's cognitive development, each level of Treasure Box prompts them to pay attention to their world, including time, space, personal relationships, physical phenomena, and more.
Guides your child to analyse and categorise what they have observed.
Invites your child to further investigate and ponder upon more thought-provoking philosophical and ethical topics such as causes, consequences, events, right or wrong, etc.
The word count and length of the stories in each level increase progressively to gradually strengthen your child's focus and stamina.
The plots of the stories become more sophisticated with each level. This trains the child's memory to hold certain ideas and information in their head and to retrieve them later when needed.
The composition of the illustrations becomes more complex with each level.
The colours of the illustrations become more mature.
The reading time of a story lengthens with each level, developing your child's habit and interest in reading with intent.
It is important to recognise that one set of Treasure Box is far from being enough to build your child's linguistic abilities. However, Treasure Box can serve as a blueprint for parents when building your child's library.
Parents are encouraged to use the content, length, genres and styles of Treasure Box as a reference when searching for other reading materials for children. This will ensure your child a rich collection of high-quality books, composed of a wide range of topics, diverse genres and varying styles, all suited to your child's current literacy level, interests and mental abilities.
The 5 levels in the series (matching Basic Chinese 500)
The 5 levels in the series (matching Basic Chinese 500)
All available in Tradition Chinese and Simplified Chinese versions. English translation and Putonghua pinyin throughout.
全課程備有繁體版及簡體版,均為中英對照,全課文內容均註有標準普通話拼音。
輕鬆簡單的故事,專門為3歲半左右、完成了基礎漢字500啟蒙級的孩子編寫。這套寶貝盒應用了啟蒙級教授的全部100個生字,讓孩子一面複習,一面可以很有把握地自己朗讀全新的故事,踏出學以致用、閱讀明理的第一步。
啟蒙級寶貝盒共有5個故事,當中包括了詩歌、動物故事、中國經典故事、生活小品和充滿幻想的童話。5冊圖書合共713個字,不但能輕鬆有效地提升孩子的閱讀能力,也養成孩子的專注力和持久力。
啟蒙級寶貝盒建議的閱讀次序是:
下雨天 > 樂樂兔 > 大狼和貓 > 司馬光 > 女孩和鳥
This set of simple and light-hearted stories are perfect for your 3½ year-old child who is starting to read independently upon completing the Beginning Reader course of Basic Chinese 500. All 100 characters that are taught in Basic Chinese 500 are used in these 5 stories. We encourage your child to read the stories aloud. It enhances the revision of those characters. It also builds your child's self confidence in reading.
There are 5 stories in the set, including a rhyme, an animal story, a Chinese classic, an everyday life story and a fairy tale. There is a total of 713 characters in the set. Your child will be able to read independently with ease. They will also learn to become focused while reading.
The books in Beginning Reader are best read in the following order:
Rainy Day > Bunny Fun > The Wolf and the Cat > Si-Ma Guang > The Girl and the Bird
3歲半的孩子對下雨天一點也不陌生。簡單的圖文並茂從孩子的角度描述了下雨天的百態和親情、友情帶來的喜樂,為孩子的閱讀之旅打響了頭炮。
下雨天
故事包含1個新生字,在書中故事後面有個別的介紹。
3½-year-olds love rainy days. This simple story illustrates one of such days as a child would see it. It talks about friends, family, activities and what comes after the rain. Your child learns descriptive writing, and one new character.
父母當然不能將3歲半的孩子單獨留在家中!不過,故事中的小白兔是大哥哥了,所以能自已打電話邀請朋友來陪他。小白兔和朋友分享玩具和書本,大家也合力將小貓闖的禍收拾好。
樂樂兔
的插圖由一位11歲的姐姐繪製,更貼近孩子的心境。
We should never leave a 3-year-old all alone at home! But Bunny in the story is a big boy and he invited his friends over to play with him. Bunny shared his toys and books with his friends. They also worked together to fix the trouble caused by Cat. Bunny Fun was illustrated by an 11-year-old girl who understands how little children feel.
大狼和貓
The Wolf and the Cat
押韻是漢語的一大特色,能為語文帶來生動的色彩。
大狼和貓
是專為孩子編寫的一首動物七言押韻詩歌,孩子容易朗朗上口,感受到詩歌的韻律節奏,讓孩子踏出學習詩歌體材的第一步。
The Chinese language has no lack of rhyming words! They add colours and sounds to our writing. This particular rhyme has exactly seven characters in each verse, making it easy for young children to feel the rhythm. Your child will have a first taste of this popular form of poetry style.
3歲半的孩子能從古典文學中學習前人的智慧嗎?寶貝盒
司馬光
的故事證明了這完全不成問題。中國經典故事是寶貝盒的必備元素,讓孩子體會中國文化的智慧。
A 3½ year-old can certainly learn from historical figures, such as Si-Ma Guang in this special adaptation. Chinese classical stories are a must in all Treasure Box series. It helps your child to learn about Chinese history, culture and wisdom.
女孩和鳥
The Girl and the Bird
童話是孩子成長路上的寶貝,在神化的幻想世界中一切都變得奇妙和有可能。
女孩和鳥
就是為了要滿足孩子對魔法世界的憧憬而編寫的童話,是啟蒙級寶貝盒中篇幅最長、字數最多的一個故事;是一個讓孩子可以反覆回味的故事。
Fairy tales are indispensable to any child. In the magical, imaginary world everything becomes possible. The Girl and the Bird cater to your child's longing towards such wonderful and magical kingdom. This story is the longest one in this set of Treasure Box, with the most word count. It is a story that your child will love to read, over and over.
萌芽級寶貝盒篇幅明顯比啟蒙級較長,字數亦較多。這套寶貝盒使用萌芽級教授的全部100個漢字和啟蒙級的漢字,很適合4歲以上、完成了啟蒙和萌芽級、累積學習了200個漢字的孩子閱讀。除了練習漢字的認讀,萌芽級寶貝盒故事的編寫也配合著孩子心智的成長和發展,內容和情節較為豐富,成為親子共閱和交流的有效工具。
萌芽級寶貝盒共有5個故事,合共1401個字,當中包括了詩歌、動物故事、中國經典故事、勵志故事和充滿幻想的童話。除了啟蒙級和萌芽級課程已教過的漢字外,孩子還會學到22個新漢字,為新一級的學習打好基礎。
萌芽級寶貝盒建議的閱讀次序是:
青春舞曲 > 小王子的歌聲 > 小魚的家 > 孟母三遷 > 小馬的星月夜
The stories of Budding Reader are distinctly longer than those of Beginning Reader. Budding Reader Treasure Box uses all 100 characters taught in the Budding Reader Basic Chinese 500, plus the characters taught in the Beginning Reader. It is written for 4-year-olds who have completed the Beginning and Budding Readers and have accumulated a total of 200 characters. Besides providing reading practice, the Budding Reader stories also grow with the child's cognitive and emotional developments in terms of plot and content. They can serve as inspiration or tools for parents to initiate discussions on different topics with children.
There are 5 stories in Budding Reader, with a total of 1401 characters. There are poetry, an animal story, a Chinese classic, an inspirational story and a fairy tale. On top of the characters taught in the Basic Chinese 500 course, the child will also learn 22 new characters. They prepare your child for the next level, Building Reader.
The BUDDING READER stories are best read in the following order:
The Youth Dance > Little Prince Learns to Sing > Little Fish's Home > Meng-Zi Changes Home > The Pegasus Sonata
王洛賓的
青春舞曲
節奏清爽,歌詞耐人尋味。我們為小朋友保留了原文,再配合著節奏創寫了第二節,以簡潔的文字和比較歡樂的內容對襯著第一節的「青春易逝」。4歲的孩子已開始對生命和時間形成模糊概念,親子共閱時不妨順著話題和孩子談談。
This poem has been adapted from a folksong of Xinjiang people, originally written by Luo-Bin WANG. The first stanza has been kept the same as its original. It compares one's youth to a bird's flying away, neither of which ever returns. The second stanza talks of new creation. It adopts a merry tone which contrasts with the first stanza. A 4-year-old would begin to understand the concept of time and life. It would be a good opportunity for parents to discuss these topics with the child.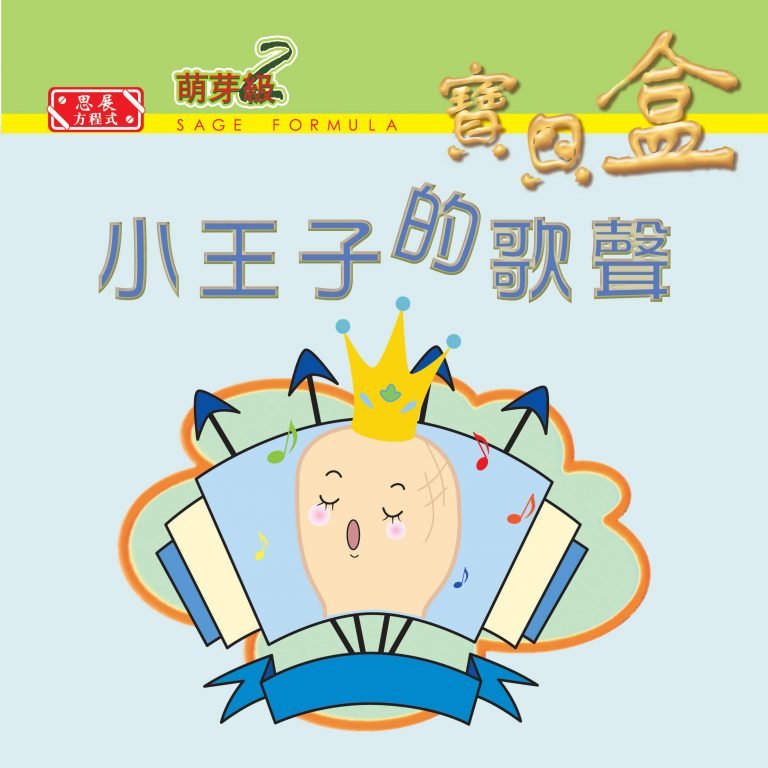 小王子的歌聲
Little Prince Learns to Sing
孩子喜愛模仿大人,從而學習種種技能,但有時面對新處境時難免會對自己缺乏信心。這時,父母的鼓舞和支持可以加強孩子的原動力,幫助孩子突破心理屏障,最終能譜出美麗的樂章。小朋友和花生國的小王子能產生多少共鳴呢?
Children love to imitate grownups. This is how they learn. Inevitably there are times when they face new challenges and lack confidence. This is the moment when a little encouragement from parents goes a long way. It could help the child to break through their own mental blocks, and write their own beautiful tune. How does your child relate to the Little Prince?
小魚的家
The Little Fish's Home
小魚的家
故事情節和用字看似都很簡單,但組詞很豐富多變,形容詞和助詞的運用亦明顯增加了,同時還導入了成語。故事結束時小魚帶出了一個值得大家討論的人生觀:到底是對面的草長得更綠呢?還是龍床始終不及自己的狗窩?
This story has a simple plot and appears to use basic words. In fact, it employs a variety of new phrases and a wide range of adjectives and auxiliary words. It also introduces idioms. At the end of the story, Little Fish raises an interesting topic: is grass always greener on the other side of the grass? Or does even the emperor's bed fall short of one's humble bed?
無論是中國的孩子,抑或是學習中國文化的學生,都不能不認識我們的「亞聖」:孟子!
孟母三遷
的故事蘊含了父母對教育下一代的重視和環境對一個人的品性行為可以造成的影響等傳統價值觀和智慧,是很適合親子閱讀分享的內容。
Whether you are a child growing up in China or a foreign student learning Chinese, you should know about Meng Zi (Mencius), who is crowned as the Second Sage, after Confucius. The protagonist of this story is, however, his mother. She has been regarded as a paragon of parenting for generations. She recognised the importance of environment in a child's learning and personality development. She used concrete examples to explain ideas to Meng Zi. The story introduces many aspects traditional Chinese culture. They are interesting discussion topics for parents and children of all ages.
小飛馬本來是希臘神話的重要角色。寶貝盒的小飛馬同樣地性格豪邁奔放、見義勇為。小飛馬的世界有星辰日月、有高山小河、樹林草原,還有各種不同的動物,相互交織出一個生動的故事,緊扣著小朋友的閱讀興趣,增強他們的閱讀信心。
Pegasus is originally from Greek mythology. The Pegasus brothers of Treasure Box are adventurous, passionate and courageous. In the world of Pegasus, there are the sun, the moon and the stars. There are mountains and rivers, forests and plains. There are of course other animals. The story of the Pegasus brothers echoes your child's imagination and their longing for adventures. This is how your child will read with passion and confidence.
完成了啟蒙級到躍進級的孩子,累積認讀了300個最常用的漢字,已到了可以進階到認識修辭,為語文的運用奠下根基的時候了。學習修辭就像學習美術一樣,必須大量地、廣泛地閱讀不同的作品,吸收各種修辭手法。透過閱讀躍進級寶貝盒的故事,孩子不但可以進一步熟練對漢字的認讀,更可以感受到不同的修辭方法。
躍進級寶貝盒共有5個故事,建議的閱讀次序是:
冬冬打蟲 > 如果不下雨 > 兒歌三唱 > 生日會 > 曹沖稱象
The graduate of Building Reader has learnt 300 of the most commonly used characters. Moreover, they are ready to learn more about grammar and sentence structure. It is time for them to lay down a solid foundation of literacy. Learning rhetoric is similar to learning art in the way that one needs to be exposed to masterpiece after masterpiece, to be exposed to all kinds of techniques. Building Reader provides your child with such opportunity in literacy by offering them stories written with more sophistication. We hope to spark their curiosity and imagination through reading.
There are 5 stories in Building Reader. They are best read in the following order:
Bug Attack > If Rain Doesn't Fall > One Tune, Three Rhymes > The Birthday Party > Cao Chong and the Elephant
這是一則輕鬆幽默的小故事,描述了一場低暴力的打鬥。透過故事我們集中練習了數字、顏色和動詞。最後一頁的含蓄幽默也許就是故事的高潮?
This little humorous tale describes a low violence conflict when the Dong-Dongs defend their home. This action-packed story is richly embedded with numbers, colours and verbs. With a little help from parents, the child will come to appreciate the humour on the last page.
如果不下雨
If Rain Doesn't Fall
「如果」是一種假設,是一種較高層次的思維活動。這篇作品以「如果」為前題,透過從不同角度對自然界的描述,鼓勵孩子留心身邊事物的不同形態和變化,引發孩子的各種想像力;同時以對比的手法,一正一反,首尾呼應,到最後以歡樂的句號作為終結。
'IF' is a hypothesis. It triggers higher level thinking. Based on a hypothesis, the poem describes various scenarios in nature. It encourages the child to notice how things around them change, and invites them to use their visual imagination. It compares and contrasts along the way, and ends with a joyful high note.
兒歌三唱
One Tune, Three Rhymes
這篇作品採用了一連串豐富的修辭法:比喻、擬人、對比、排比、層遞等。建議家長和孩子以這篇作品為藍圖,做類似的延伸活動,讓孩子的語文能力成熟起來。
This poem employs many writing techniques: simile, contrast, personification, parallelism and progression. We hope parents can use this poem as a reference and try other reading and literacy activities with children, to help them develop a more sophisticated use of language.
生日會
的故事情節有幾次起伏變化,對各種動物的形態、動作和情感亦有刻意的描述,剛好適合4歲半孩子的心智和語言發展。在故事的尾聲劇情發生了出人意表的變化,在頌揚親情的溫暖之餘,亦讓孩子有恍然大悟的娛樂滿足感。
With several twists and turns in the plot, this story gives vivid descriptions of the animals, what they do and how they feel. It caters to the mental and linguistic developments of a 4½ year-old. The story ends with an unexpected turn. It embraces family and love, and creates an "aha" moment for the child.
曹沖稱象
Cao Chong and the Elephant
透過簡潔的文字講述了這個饒富趣味的數學故事。孩子憑著自己對故事的閱讀理解,再配合父母適當的引導,可以學習到水和物件重量、體積之間的關係。對躍進級畢業的孩子來說,閱讀逐漸開始成為求取知識的途徑了。
We adapted this intriguing historical story which reveals physics and mathematics. Your child will be able to read and comprehend the story independently. Further parental guidance can help them explore the properties of water and objects, and the relationships between weight, mass and volume. To a graduate of Building Reader, time has come to use reading as a tool to gain knowledge.
完成信心級的小朋友最少能認讀400個漢字了。
然而,語文能力的提升有賴持續不懈的多讀、多想、多練習。明日的成功取決於今天下的苦功。
寶貝盒旨在以豐富的語文體裁和輕鬆的內容將小朋友的閱讀練習從苦差變成樂趣。這個階段的孩子除了閱讀能力的提升,他們的思考模式也開始突破具體實物的局限,而導向各種抽象的意識。同時,由於他們開始認識到現實世界的多種常規,因此能體會到反常事物帶來的幽默感和詼諧,亦自然地會喜歡透過歸納推理去進行猜謎語之類的遊戲。
信心級寶貝盒全情為小朋友在閱讀、理解、文學欣賞各方面給力,讓孩子成為一個信心十足的好學之人。
信心級寶貝盒共有5個故事,合共3001個字,建議的閱讀次序是:
吹牛大王 > 美猴王 > 張良 > 我來想一想 > 拇指姑娘
A Confident Reader graduate can read at least 400 characters.
Progress in language relies on large amount of reading, thinking and continuous practice. Tomorrow's success depends on the hard work that is put in today.
Treasure Box turns all the hard work into fun. It offers your child interesting and engaging stories, written in sophisticated styles for them to learn through simple assimilation. At this age, your child has achieved a lot more than a solid ability in reading – they also start to develop thinking in an abstract manner. As they now understand many rules and patterns of this world, they begin to appreciate humour and jokes arising from irregularities. They also enjoy grouping and classifying objects and ideas, and love to solve riddles.
Confident Reader aims to boost your child's abilities in reading, comprehension and appreciation of literature. It instils confidence in your child to become a life-long learner.
There are 5 stories in Confident Reader, with a total of 3001 characters. The stories are best to be read in the following order:
The Unbelieveables > Monkey King > Zhang Liang > The Big Book of Riddles > Thumbelina
吹牛大王
應合這個年齡孩子的愛鬥咀、喜唱反調、能欣賞笑話等特點而編寫。透過對現實世界的刻意反寫,希望能刺激他們對事物的細微觀察。最後一段由小男孩講的話是故事的精要;孩子是否能透徹理解取決於他的認知能力發展,父母也許要給予一些協助。這個故事的語文運用比較活潑,同時亦鍛煉孩子的閱讀理解能力。
Children at this age love to talk back and to challenge others' ideas. They also love jokes. The Unbelieveables caters to this development. With a series of descriptions which are the exact opposites of the real world, it triggers your child to pay attention to our world and their own. The Boy's speech at the end of the book is the highlight of the story. Your child may need your assistance to fully comprehend it. This story is written in a playful way. It trains your child's reading and comprehension.
美猴王
孫悟空的故事是中國四大名著之一。寶貝盒的版本務求在不失原著精神的前提下讓小朋友獨立閱讀。我們挑選的章節著重悟空的好學聰明、愛護家人、維護正義的積極個性;而他出神入化的本領亦很值得小朋友欽佩和嚮往。
The story of Monkey King is one of the four great Chinese classics. This Treasure Box adaptation allows your child to enjoy this story independently, while maintaining its original spirits. The part of the story we adapted focuses on the positive strengths of the Monkey King: he is clever, loves to learn, is protective of his family and is just. His magical and fighting power has fascinated children and adults alike through the ages.
張良
是著名的歷史人物,是漢朝的開國功臣。他不但聰明穩重,而且待人有禮,亦有誠信。對黃石公的多番考驗,他都能誠意地檢討自己,再努力作出改善,最終得到了寶貴的兵書,成就大業。小朋友只要以同樣的誠意每天練習閱讀,也一樣會獲得寶貴的回報。
Zhang Liang is a famous historical figure. He was a general and the founding figure of the Han Dynasty. He was wise, earnest, courteous and was especially celebrated for his integrity. Despite Huang Shi-Gong's persistent scrutiny and criticism, he persevered and made sincere corrections each time. In the end, he was rewarded with the precious Book of Strategies which helped him accomplish great work. We hope children will be inspired by Zhang's perseverance. One day, their consistent hard work today will pay off and earn them precious rewards.
我來想一想
The Big Book of Riddles
我來想一想
是一本謎語集。要成功地玩猜謎語必須靠日常生活中對各種事物的留心觀察,發掘出它們的特性,將事物歸類、區分、整理,當然還需要運用橫向思維方式。孩子的視點角度和我們不一樣,他們的觀察力很可能十分敏銳;就等他們來讓我們吃驚吧。
Solving riddles relies on careful observations and the abilities to compare, contrast and group. It also requires a keen analytical mind and some lateral thinking. Children look at the world from a different angle than us. They can have very sharp eyes and observation skills. You will be surprised by their discoveries and creative answers time and time again!
拇指姑娘
的故事迂回曲折,不但角色繁多,相互之間纏繞着複雜的關係,故事跨越的時間亦長、空間也廣。小朋友一方面要認識自然界季節轉變對動物的影響,讀故事時亦需要緊隨情節的突變,理解各人的心態和思維。大家知道故事結尾的那位寫故事的人是誰嗎?書中自有答案。
The story of Thumbelina is more than just a fairy tale. It is an adventure and a story of friendship. There are many characters in the story. They interact with each other and form a complex relationship network. There is also a series of causes and consequences. The story takes place across a long timeframe and a vast geographical distance. Your child will need the knowledge of animal behaviour and comprehend how the change of seasons affects nature, as well as the understanding of people's mind, to be able to follow and enjoy the story. Does your child know who the original writer of this story was? You can find the answer in the book.
實力級的孩子已學會了500個基礎漢字。
同時,他認識了搭配組詞後新增的一大堆詞彙,還有了信心級」為他奠下的閱讀理解基礎。
這個階段的孩子有兩個特點:首先,認知和大腦神經的發展使他開始能有意識地朝着自己喜愛的方向、或是跟循父母師長的指導方法去學習;其次是心理和社交能力的發展讓他慢慢從以自我為中心的世界步向社群。
根據這兩個特點,同時秉承我們一向的「宏觀全人教育」宗旨,我們特別為這個階段的孩子設計和編撰了實力級寶貝盒。
實力級寶貝盒以閱讀理解的層面為起點,邀請孩子進一步思考人生哲理。閱讀和思考的結合,是新一代孩子為未來種種的挑戰作準備所必須具備的能力。
實力級寶貝盒共有5個故事,建議的閱讀次序是:
向日葵之歌 > 我為人人 > 快樂之本 > 勿忘咯里馬 > 文姬辨琴
The Fluent Reader graduate has learnt all 500 of the most commonly used Chinese characters.
With these characters, they now have a large depository of vocabulary. With the practice from Confident Reader, they will now have established a good foundation in reading and comprehension.
At this stage, your child is different from before in two distinct ways. First, their cognitive and neurological developments allow them to learn with deliberate effort. They can now follow the instructions of their parents or teachers, or their own will, to learn and practice. Secondly, their emotional and social development guides them towards interpersonal interaction and community life.
Fluent Reader Treasure Box was designed and written keeping the above two features of child development and our principle of offering children a holistic education in mind.
Fluent Reader Treasure Box starts from your child's acquired reading and comprehension skills. It invites your child to think and explores various philosophical ideas. By combining reading and thinking, your child will be equipped with the power that is indispensable for facing new challenges in their future.
There are 5 stories in Fluent Reader. They are best read in the following order:
The Song of the Sunflower > One for All, All for One > The Book of Happiness > Awangelema > Cai Wen-ji
向日葵之歌
The Song of the Sunflower
草本一年生的向日葵是開朗、率直的象徵。向日葵之歌隨着它的生命周期描述了一年四季人們的活動和自然界的變化,也提示了古往今來文人和藝術家對它的描述和歌頌,使我們貫穿時空隔膜,擴闊孩子的胸懷和視野。
The sunflower is an annual herbaceous plant. It has long been a symbol for happiness and honesty. Following the life cycle of a sunflower in a year, this poem describes the change of seasons, including people, animals and the nature. The sunflower has been much praised by artists and writers throughout time. The poem connects the child with nature, history and life.
我為人人
One for All, All for One
我為人人
從孩子的角度對生活環境、人與人之間的關係、社群的歷史和價值觀進行了描述。透過一件小事,反映了人性的一個天然弱點,說出了知錯能改可以帶來令人欣喜的結果,也說明了群策群力的重要性。
In this book, a boy tells a story about his community. He talks about the town, its history and its people. A small event revealed a natural flaw in humanity. The story shows that by acknowledging our faults and making amends, we can have a positive outcome after all. It also shows the importance of everybody doing their part.
快樂之本
The Book of Happiness
我們的世界其實很小,人與人之間也往往存在着微妙的因果關係。因為大家都本着互相幫助的心,各展所長,所以再大的難題最終都能得到解決。這就是真正的
快樂之本
吧。
It's a small world after all. The relationships between people are intriguing. As long as we can lend each other a helping hand and use one's strength to compensate another's weakness, we can solve difficult problems. Helping each other is the true source of happiness.
勿忘咯里馬
的故事中,所有動物眾志成城,以個體的接力為大家謀公益。快捷強悍的動物失敗之後,又慢又細小的烏龜以毅力和不起眼的方法卻成功了。大家得到甚麼啟發嗎?
In this African folktale, the animals all work together. Each of them wants to achieve goodness for the community. While the strong and mighty animals failed, the slow and small tortoise succeeded, using a humble method. What can you and your child learn from this story?
孩子的成就必須有父母和孩子共同的努力才能成功:父親蔡邕既能為文姬樹立好榜樣,在辨察到文姬的才華後又能加以善導栽培,再結合了文姬自身孜孜不倦的好學,使兩父女不但擁有良好的親子關係,也造就了文姬的成就。
A child's success takes the combined effort of the child and their parents. Wen-ji's story is such an example. Her father was a role model for Wen-ji. Once he discovered her talent, he taught her in the best way he could. Meanwhile, Wen-ji was a very diligent student to her father, and the father and daughter forged a strong bonding. Wen-ji also accomplished great achievements and became a much-celebrated poet and musician in Chinese history.
豐富的配套語文活動 / 遊戲 / 練習... Collections of language activites
豐富的配套語文活動 / 遊戲 / 練習... Collections of language activites
集中學習寶貝盒教授的額外140個漢字,加上每級不同的智力和記憶遊戲,配套的雙面卡牌是孩子的學習良伴。
The set of double sided Game Cards features the 140 extra characters taught in Treasure Box. Each level of the Game Cards also include games to develop memory, pattern recognition, reading and more.
學以致用,才能真正發揮語文學習的作用。我們備有一連串豐富的語文遊戲。
Please take advantage of a series of language activities, all inline with the Basic Chinese 500 curriculum.
寶貝盒

CD 示範

Treasure Box

CD Demo
寶貝盒

CD 示範


Treasure Box

CD Demo
請欣賞由專業普通話男女配音員真情演繹的精彩配錄。每冊寶貝盒不但有配套背景音樂增加閱讀情趣,還有鈴聲揭頁提示,繪本最後更會將同級沒有教授過的新生字遂一朗讀,方便小朋友仔細學習。
這5枚CD隨購買【寶貝盒】(全套25冊)免費贈送。
A demonstration of the read-along recording of all 25 books in Treasure Box in Putonghua. Great care has been taken in the production of these recordings. We have carefully decided on the use of male or female voice for each story to reflect the contents, and made sure there is a balanced number in each voice to ensure a balanced gender perception. Background music was also chosen to best represent the mood of each story. On top of the turn-page signals, each book also ends with a reading of all NEW individual words which are not taught in the related Reader level.
The 5 CDs are part of the free bonus pack accompanying the Treasure Box Set of 25 books.
Sagebooks Hongkong promotes independent reading and life-long learning by nurturing the child's confidence, autonomy and self-teaching abilities. Since 2006. Find out more About Us.
© 2020 Sagebooks Hongkong. All rights reserved.